~ Andrea Bonner, Peterborough-Kawartha
While I enjoy volunteering on a political campaign, the task of knocking on doors was never something that I felt was right for me. I am an introvert. I don't know the issues in-depth enough to be able to debate an issue with a stranger. I will feel like I'm disturbing people. What will I say? What if I encounter someone who is really unhappy?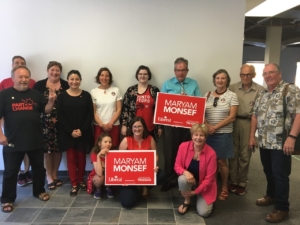 After volunteering for two campaigns, I have come to appreciate the vital importance of canvassing. This year I decided to challenge myself to get outside my comfort zone and try to help out with this critical activity. Guess what I discovered? It's not scary at all! Here are the top 3 surprising things I've learned about canvassing:
People are friendly and polite. Sure, there is an occasional person who is unhappy, but even they are polite about it. (We are Canadians after all!)
People want to talk about what they think, and appreciate that you are interested and listening.
People are always happy to talk to the candidate. When you're lucky enough to canvass alongside Maryam, magical things happen!
Curious to give it a try? More canvassers are always needed, so sign up and join the team. If this reluctant canvasser can do it, anyone can!
Canvassing Q&A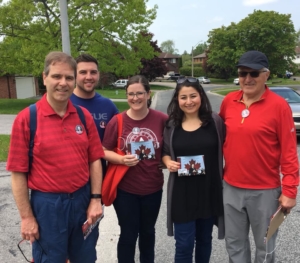 Why is canvassing so important?
Knocking on doors is how the campaign team identifies Liberal voters. As election day approaches, the team will turn their attention to mobilizing those voters and get them to the polls.
Can I help to canvass without having to talk at the door?
Yes! We use a smart phone app to record voter responses at the door. If you are comfortable using a smart phone you can volunteer to be a canvassing data recorder and will be paired with an experienced canvasser who will do all the knocking and talking.
What if I don't have a smart phone?
That's OK! We will pair you up with a partner that has a smart phone to record voter responses.
What will my first few times canvassing be like?
Your first time out, the canvass team lead will provide a brief orientation and help to get your smart phone app set up as needed. For the first few times, you will be paired with one or two experienced canvassers to help you get comfortable.
What if I don't know a lot about all of the issues?
That's perfectly OK. Most people don't want to have an in-depth debate at the door. Often they just want to be able to express their viewpoint. You will always be provided with information on key issues, along with details on where to find more information that you can leave with voters.
How do I volunteer to canvass?
The easiest way is to visit the Liberal events web page for Peterborough, and pick a Team Monsef Training or Door Knocking date that suits your schedule by clicking the RSVP button.